Head of Content
2019 - 2020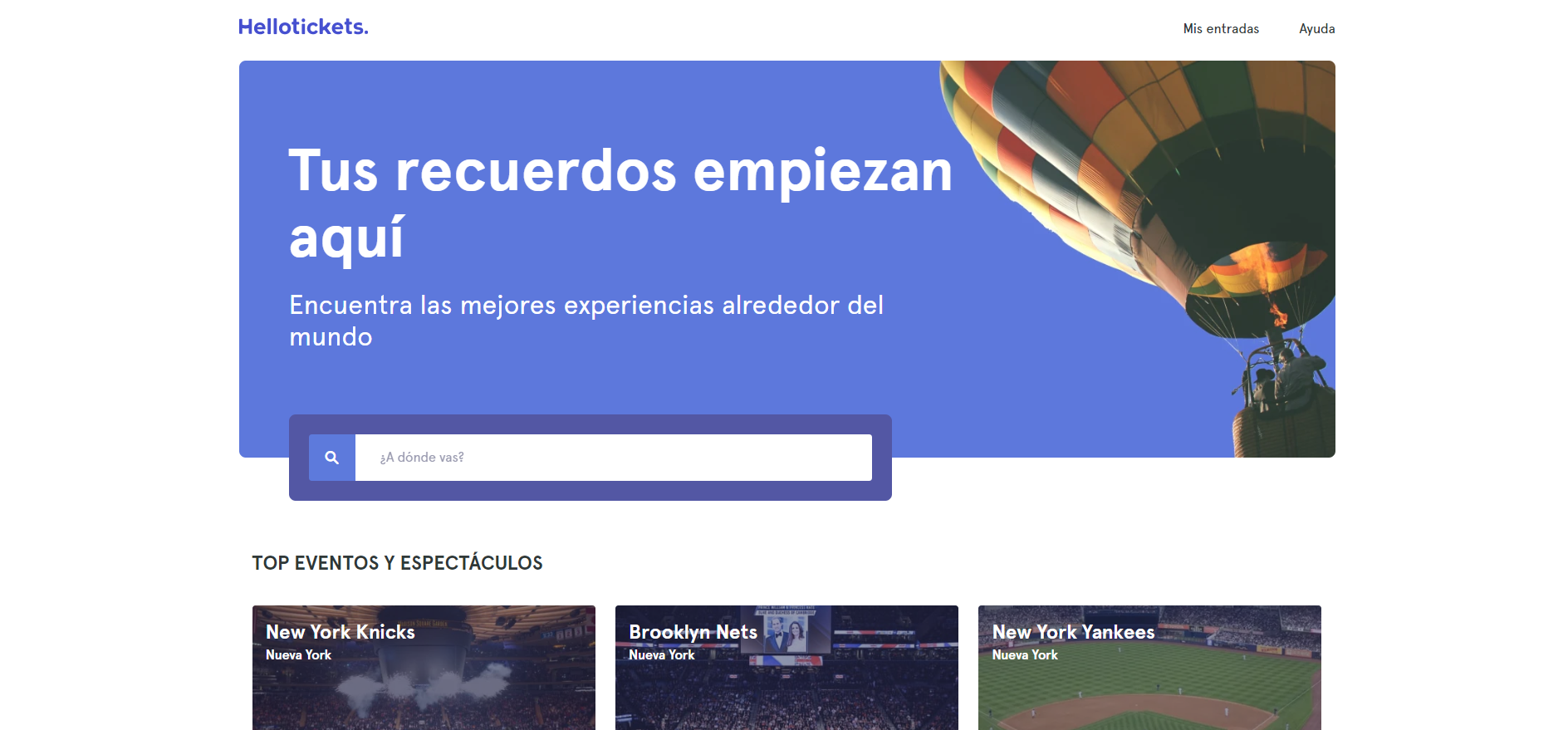 Hellotickets - Paseo de las Delicias, 31, Esc Dch, 1B, Madrid
Hellotickets is a startup company, with a vision to be the Booking.com of experiences (both travel and entertainment), relying on a multitude of inventory via API integrations.
When I joined Hellotickets, we were a team of 6 people in a small office, with an external team of developers located in Russia. My role involved taking on the core responsibilities around Content, I helped to define the company's Voice, Tone and Core Values. In the following year, the company grew exponentially, as we began to gain traction selling NBA tickets, marketing the platform as a place for travel experiences. With growth on the horizon, our team then grew to 15 people, and I had my own team member to coach.
By the end of 2019, plans were put in place to build out a sister blog relying on long-term SEO, to help drive conversions to Hellotickets. Unfortunately, due to the Coronavirus breakout, and ensuing lockdowns and travel restrictions in early 2020, I was laid off.
Tasks
General LQA
Localisation (15 Languages total)
Maintenance of sister blog (Chief Editor)
Hiring and coaching of the Content Team
Imagery Management and Creation
Catalogue Establishment
Copy Management and Creation
Content Establishment
Tools
CSS
Wordpress
Fiverr
Gengoo
Upwork
Photoshop
Google Sheets
Google Analytics
HTML
Crowdin
Intl. Partnership Content Coordinator
2017 - 2018
StubHub (eBay) - Calle Don Ramon de la Cruz, 84, Madrid, Spain
To deal with an increase in demand from the UK market, alongside an increase of demand from our growing Partnership department, I was promoted to UK + Intl. Partnership Content Coordinator. My role's main objective was to facilitate and coordinate the needs of both entities to my department, Organic Growth.
A role essentially split into two, the partnership side involved connecting the Partnership team to our Content Specialists, designating more complicated tasks to the various product departments that StubHub has: our design team, our SEO team, and the Localisation team. In a sense, it was my job to ensure each partnership's on-page treatment went as smoothly as possible.
Tasks
Project Management
Internal Documentation & Clarification
UX Content
Content Management
Copywriting
Content Localisation
Imagery Management
Landing Page Creation
Tools
Google Sheets
Google Slides
Google Data Studio
Microsoft Excel
Slack
JIRA
ClickUp
Cloudinary
HTML
CSS
Bootstrap
UK Content Specialist
2016 - 2017
StubHub (eBay) - Calle Don Ramon de la Cruz, 84, Madrid, Spain
In 2016, Ticketbis was bought by StubHub (with itself standing as a sub-division of eBay). With content editors being given clearer roles, and specialising countries further, Content Specialists would handle Content, Catalogue and Localisation. Considering StubHub already had a UK office, with an entire Customer Service department based in Dublin, the workload demand and pressure to succeed grew higher.
Working in both the Ticketbis CMS alongside StubHub's own, I began learning and using StubHub's CMS for both content and catalogue, with SDL Worldserver and LQA testing standing as the new way to deal with translations and localisation. Having to represent the International team from the beginning, I took a much more active role regarding meetings with the UK office, especially when supporting our SEO team.
Tasks
Content Localisation
Copywriting
StubHub CMS for UK
Landing Page Creation
Tools
Google Sheets
Microsoft Outlook & Calendar
Slack
JIRA
SDL WorldServer
HTML
CSS
Bootstrap
EN Content Manager
2013 - 2016
Ticketbis SL - Calle Don Ramon de la Cruz, 63, Madrid, Spain
My role as Content Manager involved maintaining the UK blog, writing content for the site (both short and long-form) and working with translation platforms such as Crowdin. I also maintained the home and landing pages of a number of English sites set in the UK, Australia and New Zealand.
It was through maintaining these pages, where I first picked up working with HTML and the bootstrap framework. There were also occasions where I would create small images/logos for the pages, using photoshop. This also involved weekly meetings with Marketing Managers, where we collaborated on ways to improve the sites' visibility both through SEO and Marketing.
Tasks
Copywriting
Ticketbis CMS
Content Localisation
Imagary Creation
Landing Page Creation
Tools
Google Sheets
Google Mail
Hangouts
Crowdin
Adobe Photoshop
Adobe Illustrator
HTML
CSS
Bootstrap
English Teacher
2012 - 2013
EBI Idiomas - Calle Bretón de los Herreros, 61, Madrid, Spain
I spent a short stint teaching Business English. Throughout this year, I learned the prepare importance of preperation, making sure to prepare my classes before-hand. Despite this, complications would always arise, and I also learned to how think on my feet and improvise whenever the occasion arose.
Tools
Inhouse Business English Resources
Adobe Photoshop
Cruise Ship Photographer
2010 - 2012
The Ships Photographer - Ventura/Oriana Cruise Ship, P&O Cruises, UK
My role with TSP stretched further than photographer. Along with photographing passengers, I spent a brief period as the main printer (Oriana), while near the end of my contract I was in charge of maintaining the ICT side of the photography department (Ventura).
The role as well as being commission only, involved working at the highest standard of P&O, and as such, Customer Service and Salesmanship are both things I excel at. During my time with TSP I shot a total of 12 weddings, all of which I am very proud of.
Tasks
Passenger Photography
Wedding Photography
Front-of-House
Customer Service
Imagery Retouching
Imagery Curation
Commercial Printer Maintenance
Photography Computer Maintenance
Tools
Nikon & Canon DSLRs
Bowens Lighting Kit
Adobe Photoshop
Adobe InDesign
Adobe Illustrator